Josephine County Republicans Oppose Property Tax Measure 17-80
May 01, 2017
This resolution overwhelmingly passed at the central committee meeting on April 23, 2017
WHEREAS, Measure 17-80, a proposed $0.93 per thousand assessed property value tax increase has been submitted by the Josephine County Board of Commissioners for placement on the May 16th 2017 Special Election ballot in Josephine County Oregon; and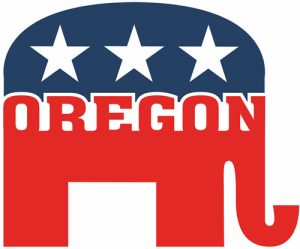 WHEREAS, the Josephine County Republican Party (JCRP) has closely analyzed Measure 17-80 and estimates it will generate $37,247,150.00 million dollars in new county tax revenue from 2017 thru 2022; and
WHEREAS, JCRP analysis concluded that this will have a negative economic impact on citizens and business in Josephine County, regressively burdening Oregonians least able to afford those higher property taxes; and
WHEREAS, Josephine County Republican Party support's public safety and the Josephine County Sheriff Department. However, Measure 17-80 offers no transparency and offers no detailed plan on how the $37+ million revenue windfall would be spent.
Measure 17-80 is contrary to the Oregon Republican Party platform of "No new taxes".
NOW, THEREFORE, THE JOSEPHINE COUNTY REPUBLICAN PARTY
CONVENED THIS DAY of APRIL 23, 2017, RESOLVES AS FOLLOWS:
1. We believe that the economic consequences of ballot Measure 17-80's passage would do serious damage to Southern Oregon's economy and the citizens of Josephine County; and
2. We oppose the passage of ballot Measure 17-80; and
3. We urge all Josephine County Oregon voters to cast a NO vote on this costly and damaging ballot Measure.
Joshua Robinson, Chairman
233 Rogue River Highway – #1255
Grants Pass, OR 97527
541-231-9564
Editor's Note: We at NWV PREDICT, that if this measure passes, what the commissioner's will do with the new found property tax money, is what they always do:
♦ Give raises and cost of living increases to county bureaucrats, already making over $75,000.00 per year.
♦ Put a big chunk of the money away for their retirement, P.E.R.S.
♦ Hire more code enforcers to write tickets to property owners
A couple of month ago commissioners were asked how the people's money is being spent (line item budget). We are still waiting!