The Man That Helped Save Josephine County
Oct 24, 2018
By John Marshall
I would like to expound on candidate Ron Smith's experience with land use issues with a few examples and links. I want to emphasize the importance of land rights in the survival of our communities. To me land is a key issue in this county and a key source of revenue and freedom nationwide. Ron Smith's opponent Darin Fowler who has plagiarized Ron's platform has zero experience with land use issues and would just capitulate to government demands as he thinks the government is whom he works for.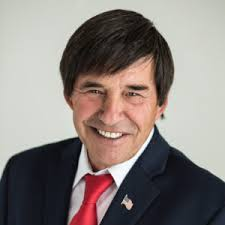 Ron Smith as you will see has been on the forefront of land use issues in Josephine County for decades. Ron's leadership was instrumental and directly responsible for shutting down the Siskiyou Wild Rivers National Monument designation for the Illinois Valley and Cave Junction area. That designation if it had gone through would have decimated the economies of Josephine County and the Illinois Valley especially. A sample from the article;
"Jim Nolan, an engineer who designs business communication systems, first heard about the Siskiyou Monument project last month in a report in a local newspaper. He began talking to his neighbors about fighting it and discovered Ron Smith. Both Nolan and Smith are lifelong Illinois Valley residents, equally passionate about local control and a self-supporting, economically viable community. In a matter of days, the two of them had managed to build a local chapter of People for the USA and establish weekly meetings attracting up to 500 opponents of the monument plan."
These land grabs by the government are not constitutional since the government according to the constitution cannot own land. According to the constitution, government has the right to ten square miles for military bases, out buildings, and post offices.
Yet the government has locked up multi-millions of acres of public land (wink wink) that the western states have been shut out from. They're controlling something they don't own, shutting down economies, schools, libraries without proper remittance for the products taken or for keeping the people from prospering. For example, the O and C lands deal is a dismal failure. It's one of many reasons why the county is impoverished while spending foolishly what revenue they did get.
Nevada has 89%+ of its land locked up and 69% of all land in Oregon is government controlled. The states have the right to take control of its own resources owned by the public of that state but bureaucracy in Washington DC and the UN have given states and counties hush money to look the other way something I'm sure Darin Fowler would obey claiming he found new revenue.
States rights are continually being violated as the government's greedy hands takes more and more without giving anything back. The only thing we get in return is a loss of sovereignty, a loss of revenue, jobs, and continuous wildfires for our troubles. Josephine County is not alone in these attacks, it's a nationwide problem.
Don't think for a minute that Grants Pass isn't on board with Agenda 21/2030. When I first moved here in 1992, I went to a city council meeting. When I approached the building I noticed a metal sign posted on the side of the building that read "Proud Sponsors of Agenda 21". That sign was taken down soon after because they must have realized it was not for public consumption. Agenda 21 were stealth agreements in violation of the constitution. The city council back then denied they ever had the sign when I confronted them about it.
As we have seen, these land grabs are NOT protecting public lands it's locking them up so the public can't enter the land to enjoy its beauty or retrieve its resources i.e. Agenda 21. It also shuts down our two main industries, logging and mining and will eventually lead to the abolition of private property, all incrementally imposed.
These monument designations are detrimental to our local economy since we do not possess any other viable industries except for hemp and marijuana which are having many issues of their own. And of course wouldn't you know it; President Clinton was locking up land that has a wealth of resources like uranium, gold, copper, trace minerals, lumber, that can be controlled and stolen at a later date i.e. Uranium One and the Hammond family and Malheur Refuge incident.
In another example this article shows how President Clinton was locking up more and more land as he exploited and abused the National Antiquities Act of 1906 which now threatens our national security from its illicit use.
In another example this WND article shows the increasing opposition to the National Monument designation.
As you can see there's an international aspect and a local social economic impact associated with all the land use issues we have here in Josephine County. That responsibility can't be left in the hands of the ignorant.
Ron Smith I believe is looking out for our best interests and has been for decades. This is the kind of do-diligence we need as a commissioner. Ron will not only look out for our resources, but he will capitalize on those resources that will bring income to the county, create jobs, and protect the public's safety from wildfires. Its clear Ron wants a viable, happy future for your family and his in Josephine County Oregon.
Ron was raised in a household where God, family, and country were considered crucial elements for healthy, daily living. As Ron grew older, he became determined to do more to improve the community. That initial calling led Ron to get involved with organizations that shared his values and objectives.
As Ron continued working to advance those objectives; Ron was recognized for his service to the community when nominated, "Citizen of the Year 2001″ by the Illinois Valley-Cave Junction Chamber of Commerce for his leadership role with People for the USA, a property rights organization.
As Ron continued his quest, he was honored to meet with Secretary of the Interior and Clinton appointee Bruce Babbitt at the Bureau of Land Management Office in Medford, Oregon. That meeting was in response to a protest taking place in the streets of Cave Junction with about three hundred in attendance to protest the Siskiyou Wild Rivers National Monument designation.
It was George HW Bush that signed the UN agenda 21 non binding agreements (wink wink) into existence in January 1992 in Rio de Janeiro Brazil and Clinton started implementing it as soon as he got in office in 1992 which incidentally is about when it landed in our backyard, it's nothing short of a stealth war on the west.
At one point, Ron was in Washington DC, lobbying for the Klamath Farmers on a water rights issue, Ron worked with Senators Harry Reed, (Dirty Harry Reid involved in land theft himself in Nevada) Gordon Smith, and Representative Greg Walden, with other various senators and representatives who took an interest in the plight of those farmers.
Currently Ron is serving in Grange activities, acting as Overseer for the Grants Pass Fruitdale Grange, and is also an active member of Josephine County Pomona Granges. Other activities include membership in the Redwood Lions Club, and the Josephine County Farm Bureau.
I believe these associations and experiences have helped develop qualifications that Ron can use while performing the duties as County Commissioner of Josephine County.
Everybody wants to protect the environment but it shouldn't be at the expense of those living there. After the lumber industry was decimated in the eighties Josephine County gained the unique distinction of being the poorest, yet the richest county in Oregon because of its abundant resources that are still purposely put out of reach to the public. That distinction made Josephine County an ideal target for Agenda 21.
These monument designations are nothing more than UN land and resource grabs that keep the affected counties in economic straights making us reliant on grants and tax increases while at the same time it drastically raises the dangers of wildfires due to apathy on part of the BLM whom are supposed to be the stewards of the land but instead have become the physical land grabbers for the non-binding UN agreements, while stopping at nothing to remove people off their multi-generational lands.
Let's not forget to mention the high crime/drug rate associated with a depressed economy as a result of going along with Agenda 21/now AG 2030. It's a form of socialism. What economy we do have we would have surely lost if not for Ron's leadership and the hard working crews of citizens getting involved to stop the UN/governmental land grabs in the Siskiyou Mountains.
I want someone who will stand up to the governmental land grabs that are obviously not in the best interests of the citizens and for me Ron Smith is that man. A vote for Ron Smith for Josephine County Commissioner on Nov. 6th will be a vote for you and your land use and property rights.
© 2018 John Marshall – All Rights Reserved
E-Mail John Marshall: [email protected]